Start dates - Year 2021: February 1 / June 14 / September 27
Gateway College
HEALTH CARE ASSISTANT TRAINING PROGRAM
This healthcare assistant program is designed to train learners to become Health Care Professionals. Our dedicated and experienced instructors will provide quality education with hands-on training to prepare students for the real world. Students will practice their techniques in labs equipped with articulated mannequins, hospital beds, medical gear and fixtures. Furthermore, students will participate at a designated facility or a hospital and interact with patients throughout the practicum training period. This healthcare assistant training program will help students learn proficiency and the confidence most needed on a job. Our graduates work in both private and publicly funded facilities and hospitals as well as a variety of community settings. These may include extended care, intermediate care, assisted living, acute care hospitals, home support, rehabilitation facilities, and group homes. HCAs work as part of a team within a health care unit under the supervision of a health care professional such as a registered nurse or licensed practical nurse.
Important Information
Course Start dates - Year 2021:

February 1 / June 14 / September 27

Job Titles:

Health Care Assistant, Resident Care Attendant, Long-term Care Aide, Home Support Worker, Personal Care Attendant, etc.

Credential:

Diploma

Hours:

Mon to Fri, 9 am to 3:30 pm

Length:

755 hours over 32 weeks

Delivery Mode:

Traditional (In-class) or Combination (Online+On-site)

Campus:

Vancouver, BC
---
Tuition and fees:
Non-refundable Application Fee:

$250 (Domestic)/ $300 (International)

Tuition:

$2,550 (Domestic)/ $9,410 (International)
*Tuition does not include textbooks, supplies and other applicable costs
ADMISSION REQUIREMENTS
Applicants must be at least 19 years of age prior to starting of the study period or must be graduated from grade 12. (or equivalent)

Applicants must provide proof of meeting English language competency requirements. (Please refer to the language proficiency policy.)
The following are to be completed prior to the first practice education experience:
Proof of meeting current immunizations/vaccinations as per health care organization policies/guidelines (or signed vaccination exemption form, except TB)
Criminal record check from the Ministry of Justice, including clearance to work with vulnerable adults *
First Aid
CPR Level "C" or "HCP"
FoodSafe Level 1 (or a course deemed equivalent)
Provincial Violence Prevention Curriculum (PVPC) E-Learning Modules
* Additional Police Certificate from the country of origin, including clearance to work with vulnerable adults, is required for international students.
---
WHAT TO EXPECT?
Upon successful completion of the Health Care Assistant program, students will be granted the following credentials:
Health Care Assistant Diploma
Dementia Certificate
Medication Administration Certificate
HCA Acute Care Certificate
Provincial Violence Prevention Certificate
*Eligibility to register with the "BC Care Aide & Community Health Worker Registry.
Program Schedule
Week 1-21

(On-campus*, 9:00 am – 3:30 pm): Theory courses

Week 22-25

(On-campus, 9:00 am – 3:30 pm): Healing 3: Personal Care and Assistance (lab training)

Week 26-32

(On-site, variable 40 hours a week schedule): Work Experience courses
*In-class instruction Delivery only
---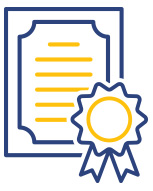 ---